Micronz Ltd have technically supported this project and we are proud to have had the opportunity to be part of such an exciting and for us very unusual project !
Internationally award-winning architects Cara Lee and Stephan Mundwiler exhibit their most ambitious building concept to date at la Biennale di Venezia 2016 - Architettura.
220 mylar 'flowers' covering a towering structure are programmed to react to a person's motions the way a natural organism does

Developed, engineered, manufactured and constructed completely in-house using open-source information

Project explores the very way individuals interact with buildings; pushes the very definition and purpose of architecture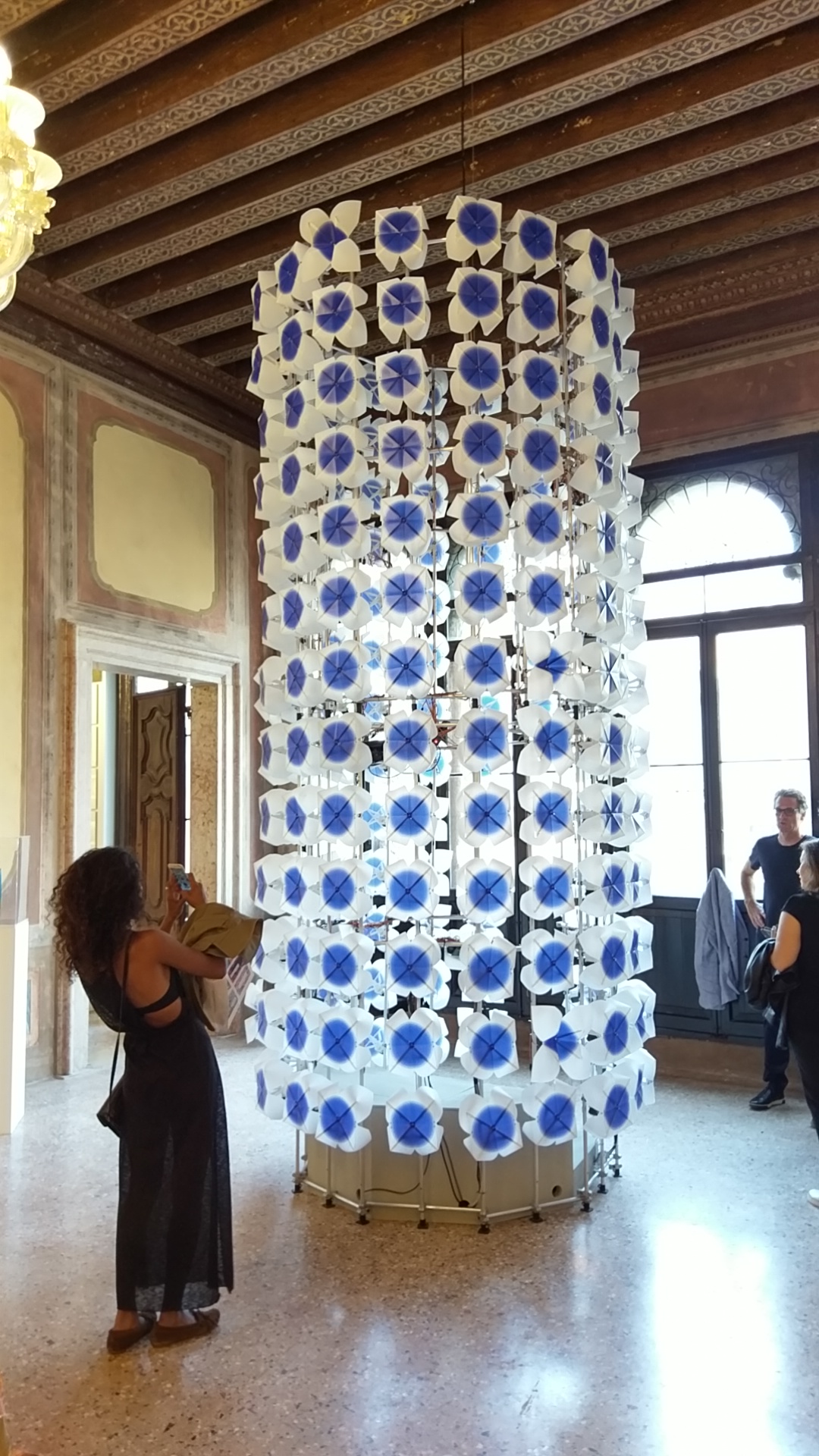 Venice, ITALY: Internationally award-winning architecture firm leeMundwiler Architects have taken the first step down a path of highly-conceptual structural design they have been incubating for years. From the awarded "breathing pavilion" conceived for the World's Expo in 2010 to multiple boundary-pushing designs based upon the idea of living life to inorganic structures, this is the studio's first foray into translating these concepts into reality.

EVENT:
"TIME SPACE EXISTENCE"
Collateral event of the 15th International Architecture Exhibition (part of the La Biennale di Venezia - Architecttura)
 
LOCATION:
PALAZZO MORA SALONE - VENICE, ITALY

OPENING PERIOD:
28 MAY-27 NOVEMBER 2016
www.palazzomora.org
 

PROJECT OVERVIEW - IN THE WORDS OF CARA LEE AND STEPHAN MUNDWILER:

CHiLL: the Organics of the Inorganic

As Los Angeles based architects, we are surrounded by the film and tech industries. Their influence is undeniable in our design approach. By deconstructing their method of delivering stories and messages – plus the rapid progression of technology – we set out to create a distinctive system that can be applied to architectural objectives. One example: James Cameron's Avatar took him 10 years to develop and produce, the result of which was a game-changer for the film industry. CHiLL has been brewed about that long at the conceptual level with the proposition of: What if architecture is no longer a static entity?

Not by accident, ChiLL represents interactive architecture.

The exterior surface of CHiLL consists of 228 mylar 'flowers' integrated with inorganic 'nerves' mechanisms. We engineered the prototype in-house with a 3D printer. These flowers were then attached to a lightweight aluminum spine and wired into a complex network that powered by motion-sensor servo software.

Those who interact with this installation are called 'the instigator.' When the instigator steps into the core space of CHiLL, the sensors perceive his or her presence and reacts according to the instigator's movements and commands. The data is delivered to CHiLL's 'brain' for analysis, interpreting 'desires' and 'motivations' and feeds the information to its inorganic nerves.
The interactivity of ChiLL makes the installation a very willful manipulator, negotiator, and provocateur. We desire architecture be an active, animated presence. The very nerves of the building are activated and programmed to reflect an instigator's desire and demand. Yet, this system allows the structure to be animated through an algorithm that diverges so far from the point of origin, that the structure is no longer a dependent, rather has own set of mind.

Our ultimate desire is this: a structure that has the intelligence to control its own destiny, while still having a tenable relationship with those who interact with it. We are intimately interconnected with everything in our environment, and CHiLL provides another subject to this relationship

In general, architects are very conflicted. We are tasked to create these massive, solid structures, yet there is this desire for buildings to be perceived as having a softer condition – airy, light, invisible, intangible, blurry. We use light, space, color, and perceived conditions to essentially redirect the eyes.

For instance, when designers describe their project, they verbally flirt with these existential narratives – we certainly are not excluded from doing this. The Jungian complex is apparent when we try to compensate that disconnect by verbal assertion. That's why architecture writing is usually conflicted, convoluted, and confusing. We wanted to create a structure that expunges the need for this disconnect that requires written explanation and interpretation. It was in essence the questioning of ourselves and our architecture that led to ChiLL. Questioning the status quo is the most powerful driver of innovation, therefore we need to keep questioning, keep pushing, keep dreaming.